Trabalho de Conclusão de Curso em Design de Produto na FURB.
A

EquiCare Band

foi criada e desenvolvida a partir da necessidade médico-veterinária de redesenhar um produto para o pós-operatório de equinos que passaram por intervenção abdominal ocasionada pela síndrome do abdômen agudo ou cólica equina. O produto além de suprir as necessidades principais de proteger a sutura e dar sustentação à musculatura ao equino, possui a função de se comunicar com o médico e/ou proprietário do cavalo via bluetooth através de um aplicativo no celular emitindo relatórios sobre o bem-estar do animal.
Graduation project completed at FURB with a major in Product Design.
EquiCare Band was created and developed from medical veterinary necessity to redesign a product such as an abdominal support to help on post-colic surgery recovering on equines. The product protects the suture and provides a musculature support, apart from the technological section that communicates with the horse doctor or owner, notifying with daily reports via bluetooth through an application such as a wearable on cellphone about the horse well-being during the recovery.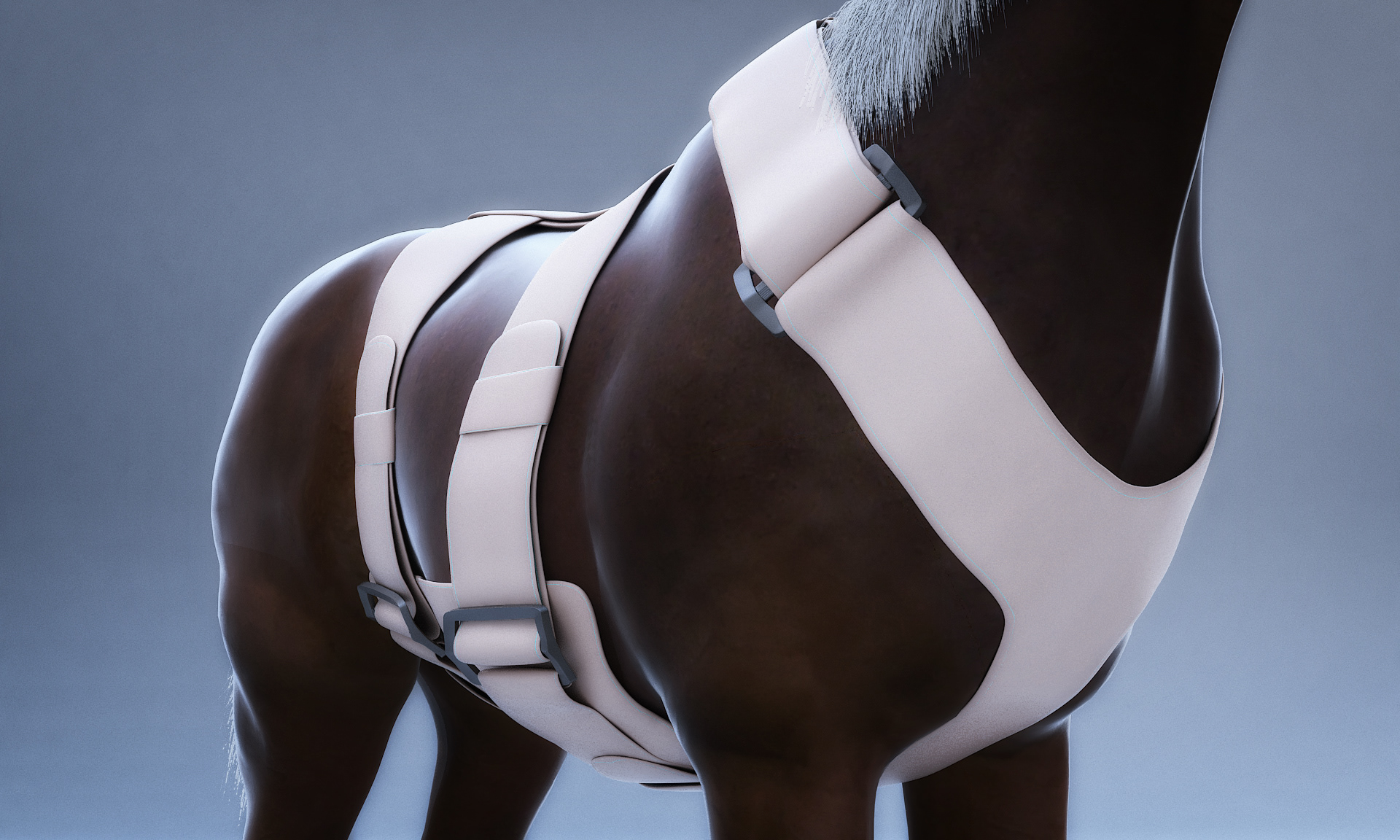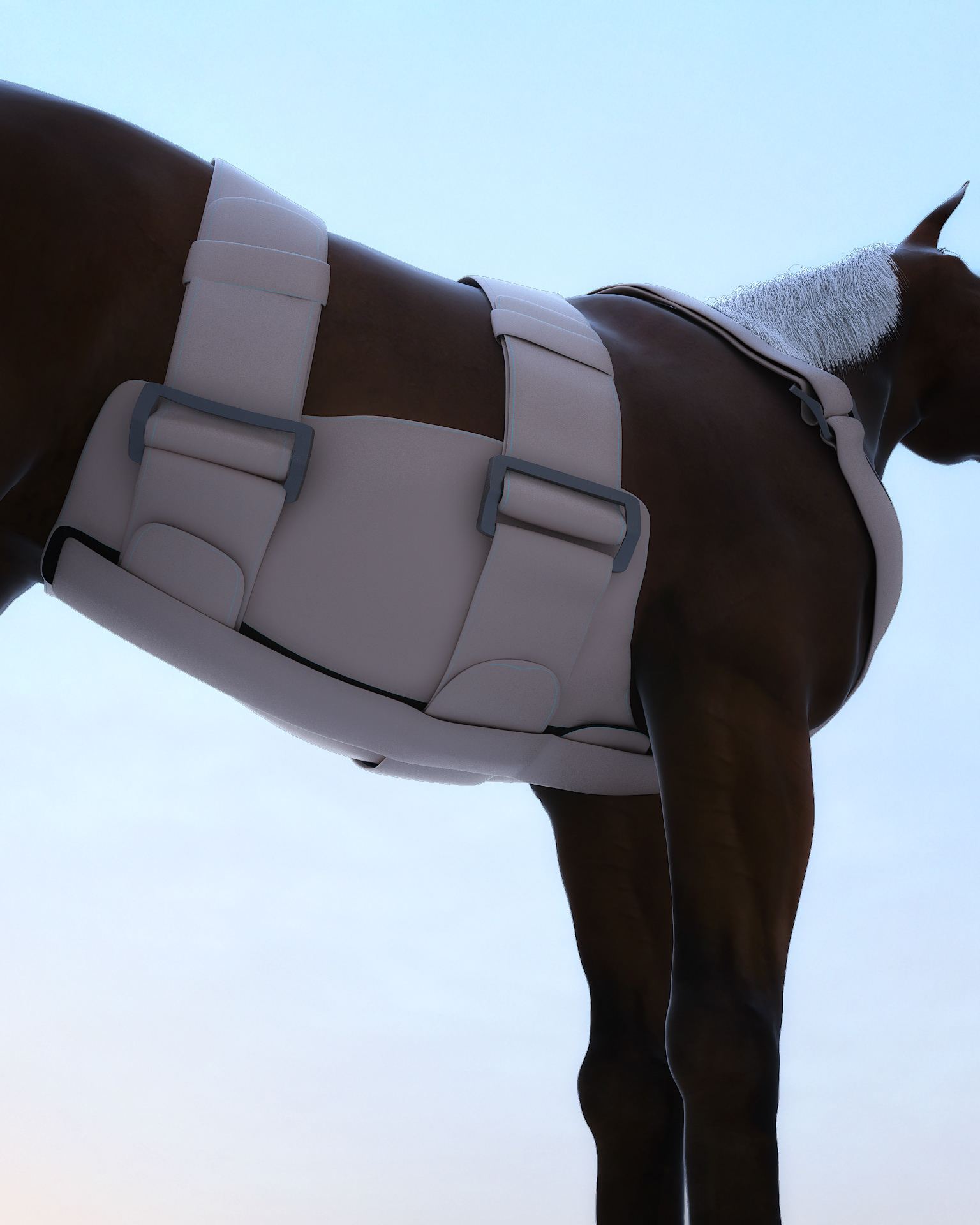 A proposta de produto foi desenvolvida em parceria com um Hospital Veterinário de Guaramirim - SC.
Atendendo as demandas de mercado, o produto possui dois tamanhos padrão para potro e adulto. Além disso, a EquiCare Band possui regulagem de largura, peitoral e alças ajustáveis com velcro se adaptando facilmente a cada porte de cavalo. Os tecidos utilizados são o Kevlar, Neoprene e Supplex, sendo utilizados conjuntamente para se ter um melhor benefício e conforto ao cavalo.
The product was developed in partnership with a Veterinary Hospital of Guaramirim - SC
Satisfying the market demands, the product has two standard sizes for foal and adult horses. In addition, the EquiCare Band has adjustable width, chest and adjustable shoulder straps with velcro adapting easily to each horse size. The used fabrics are the Kevlar, Neoprene and Supplex, being used jointly to have a better benefit and comfort to the horse.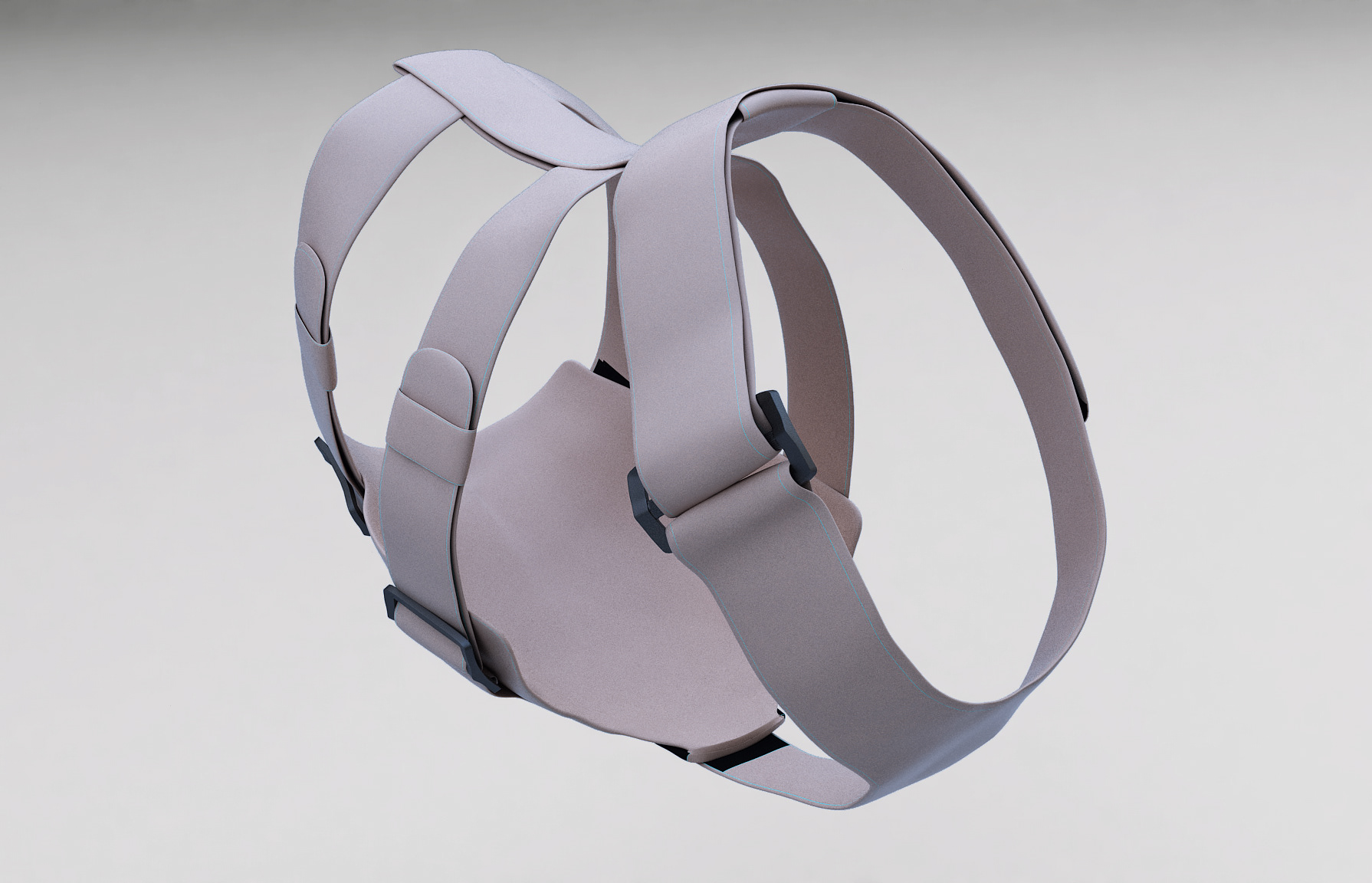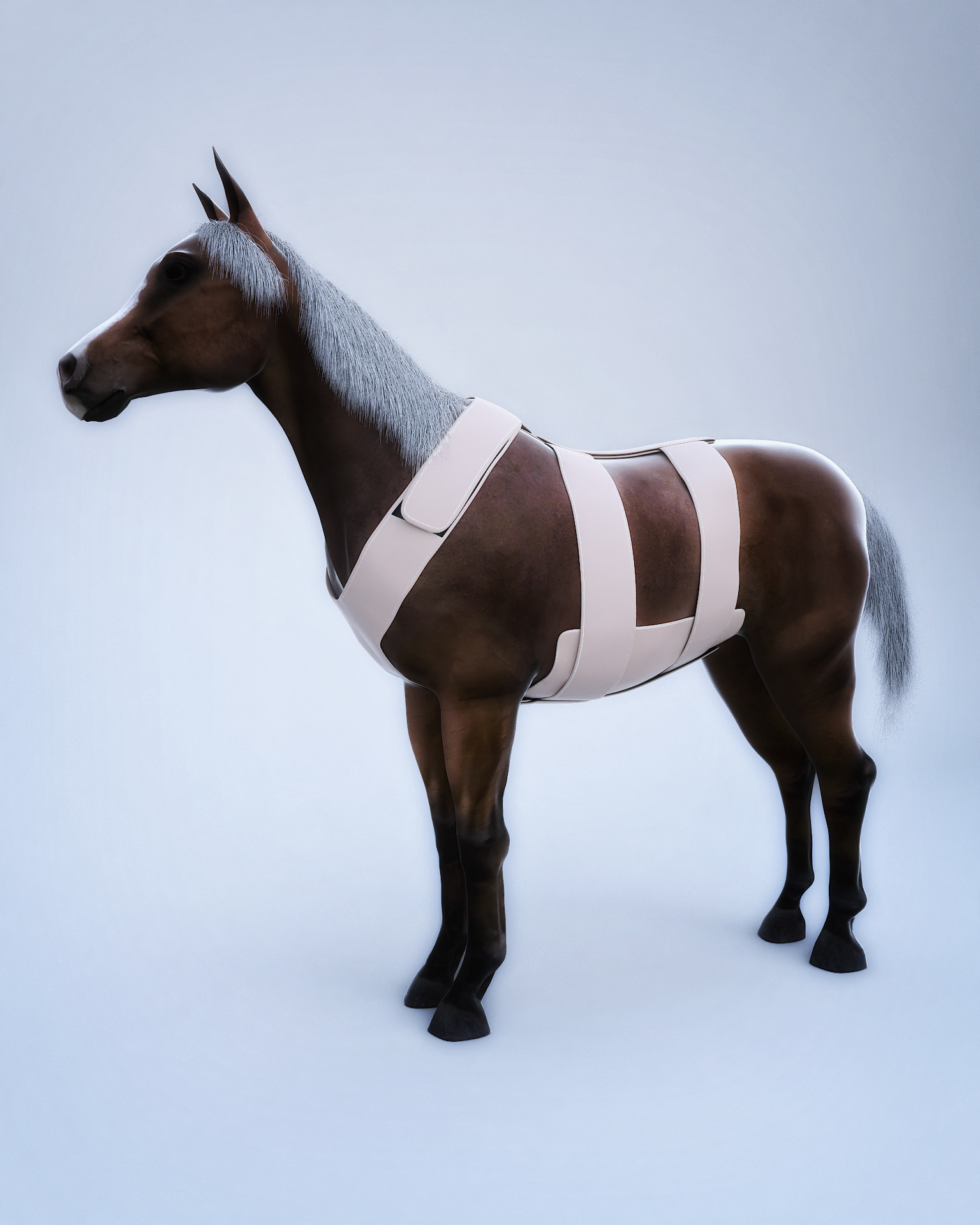 Para auxiliar no cuidado para não haver complicações ao equino no pós-cirúrgico, foi desenvolvido o aplicativo EquiCare capaz de
comunicar com sensores via conexão bluetooth vários parâmetros do equino como temperatura, batimentos cardíacos, movimento e umidade da sutura para o aplicativo no celular, além de possuir outras opções de monitoramento manuais como alimentação, exercício físico, medicamentos e temperamento. O objetivo é monitorar o cavalo sem precisar retirar o produto para verificação.

To help caring to not have horse complications on the post-colic period, was developed an application to be able to communicate several parameters such as temperature, heart beats, agitation, suture umidity and another options of manual monitoring like feeding, exercise, medication and temperament with sensors via bluetooth connection to cell phone. The purposal is to monitora the horse without having to remove the product for verification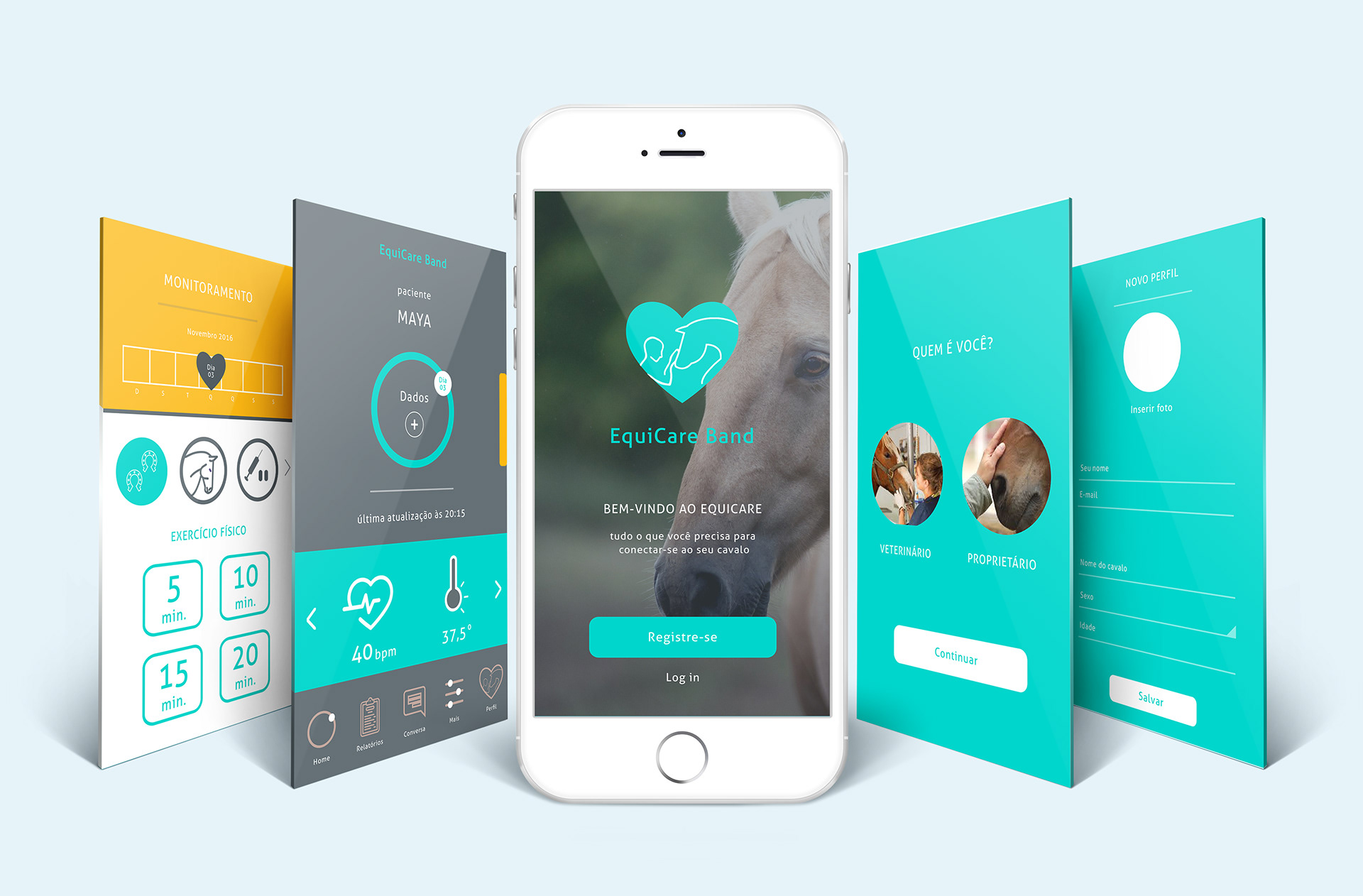 Para proteção interior do tecido que entra em contato com a pele do cavalo, o líquido hidrofóbico NeverWet é utilizado a fim de que se mantenha a sutura livre de sujeiras como suor, urina e vários outros materiais. Já para a parte tecnológica, a plataforma eletrônica e open-source Arduíno controla os sensores da band emitindo seus sinais via bluetooth e transformados em dados no aplicativo.
With an objective to protect the interior part of the band, an hydrophobic liquid is used to keep the suture free from sweat, urine and stuff like that. About the technological section, an eletronic platform and open-source called Arduíno is going to control the band sensors emitting the signals via bluetooth and transforming in data application.

A EquiCare Band é ainda um projeto em desenvolvimento e o produto não está disponível para venda. 
EquiCare Band is still a project in development and the product is not available for sale.
Caso você tenha interesse em comprar o projeto, entre em contato por e-mail: oi.jaciarabusarello@gmail.com
If you are interested to buy my project, get in touch on my e-mail: oi.jaciarabusarello@gmail.com